Invitation and Call for Presentations for the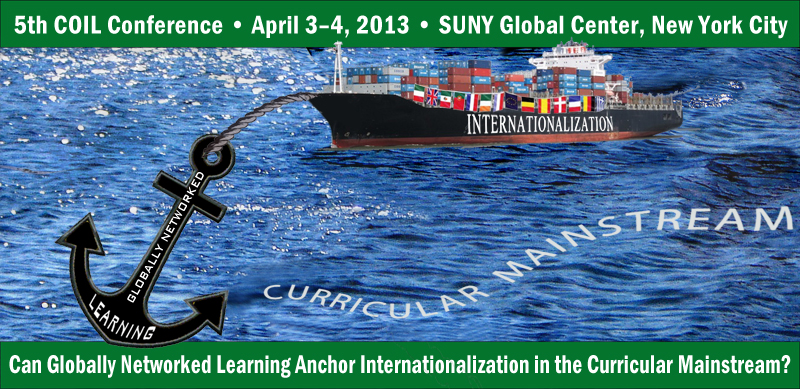 For more info about the Conference and Call for Presentations (CFP) please visit: http://coil.suny.edu/5th-coil-conference
The SUNY COIL Center's annual conference brings together faculty, international educators, instructional technologists, and university and college administrators from SUNY, across the U.S. and around the world to share their experiences developing Globally Networked Learning (GNL) courses, initiatives and best practices. GNL is a teaching and learning methodology which provides innovative and cost-effective internationalization strategies. GNL programs foster faculty and student exchange with peers abroad through co-taught multicultural online and blended learning environments that emphasize experiential collaboration.
This year's conference will include sessions from invited speakers and from an international CFP (see below).
5th COIL Conference Themes and Topics include:
Student Perspectives and Voices from Globally Networked Learning Courses
Role of GNL in Integrating Intercultural and/or Global Dimensions into the Curriculum
GNL Courses as Portals for Increased Participation in Study Abroad
How is Intercultural Exchange Transformed in the Online Environment?
Outcomes from the COIL Institute for Globally Networked Learning in the Humanities
GNL Moves Outside the Humanities: Examples from the STEM, Business and Applied Fields
Is Globally Networked Learning the Beating Heart of Curricular Internationalization?
Integrating Real-time Tools into Asynchronous International Courses
Utilizing GNL and Technology to support Language Learning
We've Taught the GNL Course, but My Institution Doesn't Know What to do Next!
Call for Presentations
We invite proposals that broadly support this year's conference themes for presentations in a range of formats. Joint proposals, including those within and across departments and/or inter-institutional partners. Those which include substantial audience participation, or panels which bring in student perspectives are particularly encouraged. Possible presentation types include:
Panels (30-60 minutes)
Roundtable Discussion Panels (up to 60 minutes)
Debates (30-60 minutes)
Individual Presentations (20 minutes)
Mini-Workshops (including ones focused on participant input around a topic, up to 60 minutes)
Any session can be designed to include remote presenters via videoconference or other technologies. Be creative in proposing presentation formats, as alternative and innovative formats are highly encouraged.
Proposals are due February 8, 2013.
Detailed information and requirements for the CFP can be found on the conference website.
---
Conference Registration and Hotel Information
Please join us for an engaging and lively series of presentations and discussions on international online learning environments. The 2011 and 2012 COIL Conference filled to capacity. So we recommend registering early to avoid disappointment. Early bird registration rates end February 22, 2013.
| | | |
| --- | --- | --- |
| Registration Deadlines and Rates (in US Dollars) | SUNY | Others |
| Early Bird Registration by February 22, 2013 | 165 | 260 |
| Regular Registration after February 22, 2013 | 200 | 310 |
Note: In addition to check, credit cards and other forms of payment, registrants from SUNY member campuses can use CPD Training Points.
COIL has arranged special hotel rates for attendees, including 160 dollars at a hotel in Queens just 1-2 subway stops from the Global Center; and 241 and 259 dollars at two Manhattan hotels less than a ten-minute walk from the event. The hotel booking deadline is March 2, 2013.